Ducks & Fake Realistic
Birds Order Page
| | | | |
| --- | --- | --- | --- |
| Item # | Size | Price | Order |
| CK119 Loon | 14"X11" | Discontinued | |
| CK114 Tan Mallard | 14"X11" | Discontinued | |
| CK116 White Duck | 14"X11" | Discontinued | |
| CK113 Green Head Mallard | 14"X11" | Discontinued | |
| CK112 Brown Head Mallard | 10"X9" | $33.00 | |
| CK111 Green Head Mallard | 10"X9" | $33.00 | |
| CK115 Mallard w/egg | 12"X12" | Discontinued | |
| CK132 Loon | 9"X4.5" | Discontinued | |
| CK129 Loon | 13"X6.5" | Discontinued | |
| CK110 Wood Duck | 10"X9" | $33.00 | |
| CK118 Goose | 8"X8" | Discontinued | |
| CK106 White Dove | 10"X7" | Discontinued | |
| CK109 Pigeon | 8.2"X8" | $31.00 | |
| CK108 White Pigeon | 8.2"X8" | $31.00 | |
| CK135 White Duck | 7"X4.5" | Discontinued | |
| CK134 Tan Mallard | 7"X4.5" | Discontinued | |
| CK131 Green Head Mallard | 9"X4.5" | Discontinued | |
| CK133 Green Head Mallard | 7"X4.5" | Discontinued | |
| CK138 White Pigeon | 6"X4.5" | Discontinued | |
| CK139 Pigeon | 6"X4.5" | Discontinued | |
| G950 Large White Goose Not Pictured | 15"X22" | Discontinued | |
| G951 White Goose | 9.5"X11" | Discontinued | |
| CK106GY Grey Flying Pigeon | 14.5"X7.5" | $38.00 | |
| CK106W White Flying Pigeon | 14.5"X7.5" | $38.00 | |
| DK807 Baby Duck | 3.5"X5.5" | Discontinued | |
| DK806 Baby Duck | 3.5"X4" | Discontinued | |
| DK804 Baby Duck | 3.5"X5.5" | Discontinued | |
| DK805 Baby Duck | 5.5"X3.5" | Discontinued | |
| DK808 Baby Duck | 3.5"X2.5" | $11.00 | |
| DK809 Baby Duck | 4"X5.5" | Discontinued | |
These Baby Ducks are very realistic and life like! Great Photo Props for Spring Photos!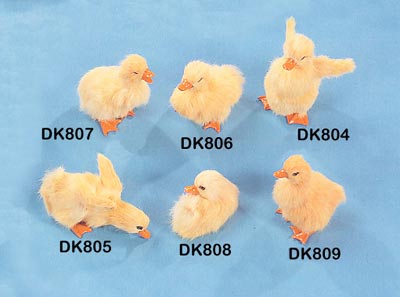 Ducks, Mallards, Pigeons,
Goose, Loons & Ducklings

Ducks, Goose, Pigeons, Loons & Mallards
Fake Feathered Bird Figurines made with real chicken feathers to appear lifelike. These Wild Bird Statues are similar to taxidermy, but more of a figurine. Decorate your home with these Realistic Bird Figurines.
NEW Click-Thru Feature!
Just click on the picture above and it will take you to another page.
Still not what you are looking for?
Click the picture again to view another page.
You can now view each page by simply clicking on the pictures.
It's a fast & easy way to browse thru ALL of the Furry Animal Pages!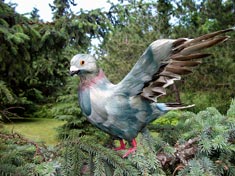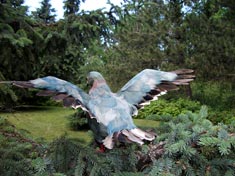 CK106GY Flying Grey Pigeon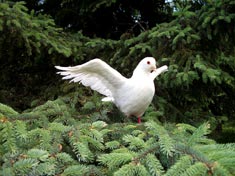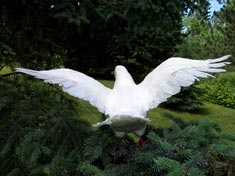 CK106W Flying White Pigeon
The Ducklings really make this little one smile!!
Below is a picture sent to us by a Customer! These Realistic Ducklings make great Photo Props for Easter Photos! Click on the picture below to see more Pictures from Customers.