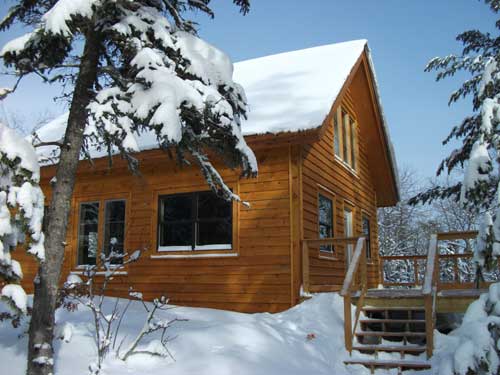 WINTER at the cabin rental brings you clear blue skies as you are all cozy inside enjoying the beautiful Snow Country near the BWCA!
SUMMER on the deck is quite relaxing!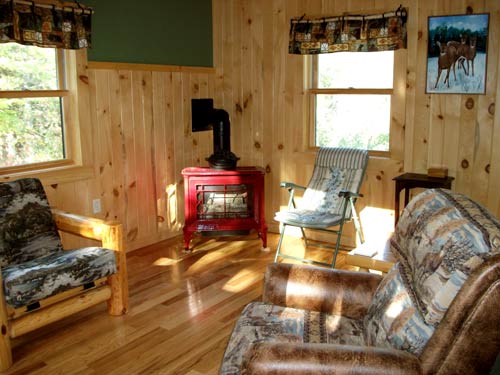 The Red Stove keeps the cabin very warm!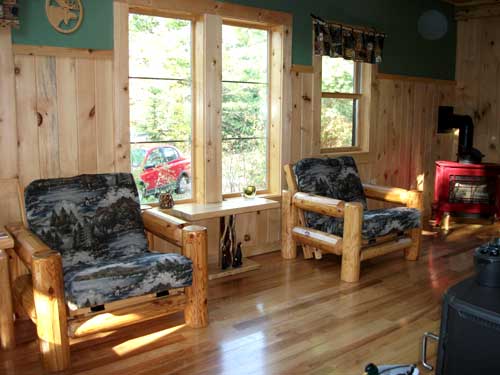 Two Futon Chairs turn into 2 Single Beds.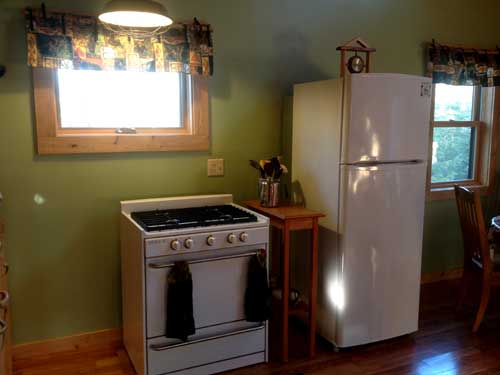 Full Sized Propane Stove and Fridge.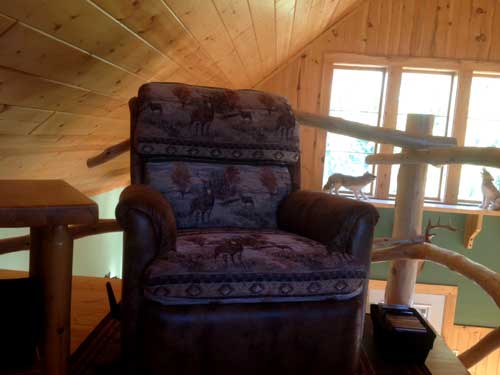 Recliner Chair in Upstairs Loft.
Screened in Porch with No Bugs allowed!
Lawn Chairs inside Screened in Porch.

Storage building and Outhouse.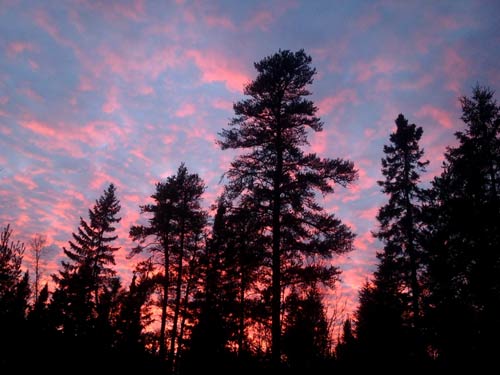 Fantastic sunsets right out the window!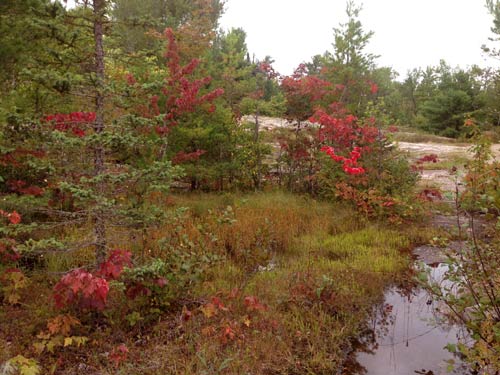 The Fall colors are great in the North Woods!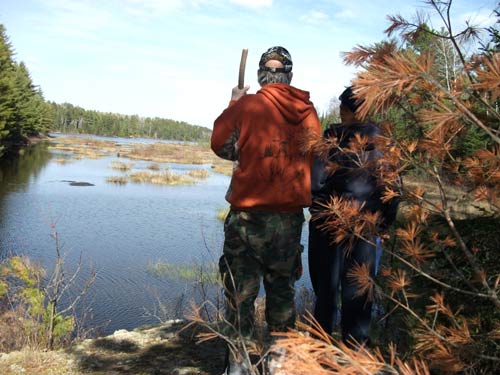 Hiking Trails nearby with spectatular views!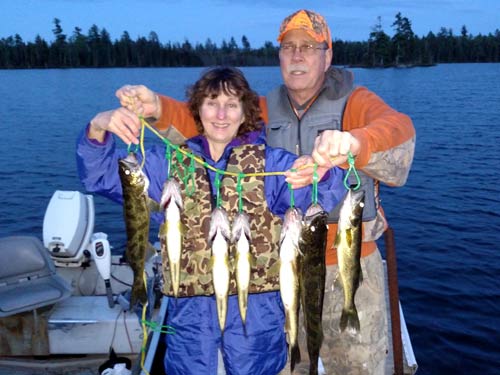 Walleye Fishing is another popular sport in Ely!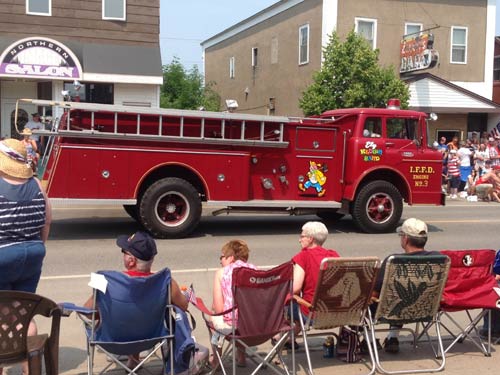 Every year Ely has a 4th of July Parade and Fireworks too!
RESERVE TODAY: 888-669-0956
This Remote Cabin is fully functional with excellent cell phone service, a solar panel system for electricity, and crystal clear running water at the kitchen sink. It is stocked with kitchenware, linens, and towels, etc. There is a Flat Screen TV and DVD Player with many Movies available to watch on a rainy day. There is a Fridge/Freezer, Stove/Oven, Microwave, Coffee Maker, & Toaster available for your use. The Ornate Gas Stove heats the cabin and provides a peaceful flame that is beautiful to watch in the evenings. The Outhouse is a few steps away from the cabin along with an Outside Solar Shower. There is a stone camp fire for roasting marshmallows and a log bench for watching stars!
The property is on 18 acres next to Superior National Forest and the BWCA. Enjoy any of the nearby lakes for fishing, swimming or boating. Hiking Trails are minutes away in either direction. Showers are available in Ely at one of the many Camping Outfitters at a minimal cost. Make a day of it by shopping in town and then catch some lunch or supper at one of the many Restaurants in Ely.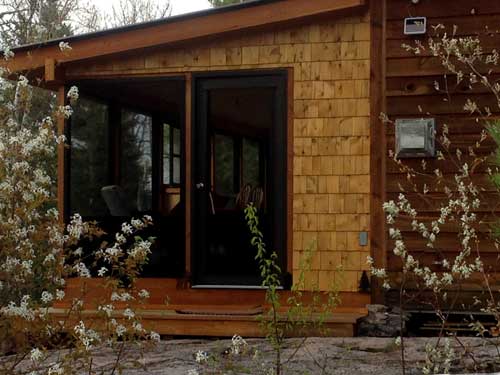 SPRING at the cabin gives you many blossoms from blueberries to plum trees! All the plants are coming alive again after the long winter!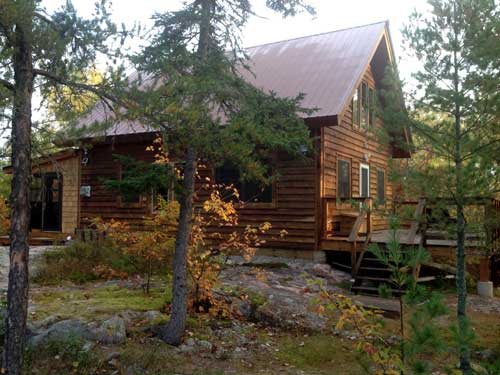 FALL is time to take in all the colors!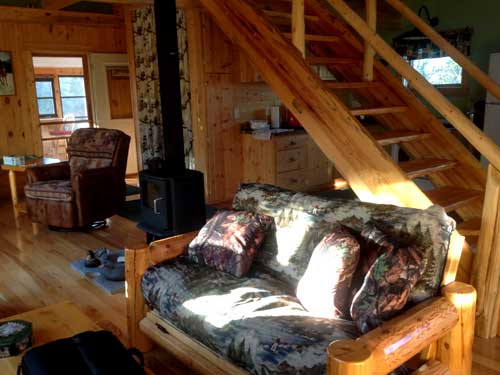 Double Futon Bed on Main Floor sleeps 2 people!
Dining area in cabin.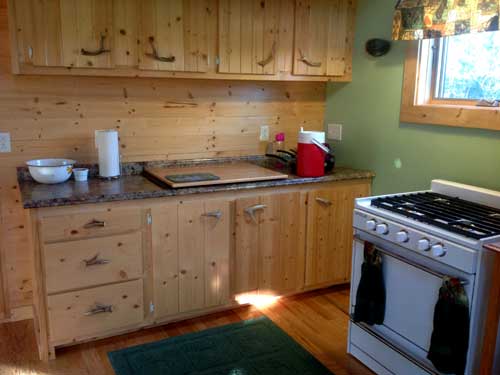 Fully stocked kitchen: Pots, Pans, Dishes.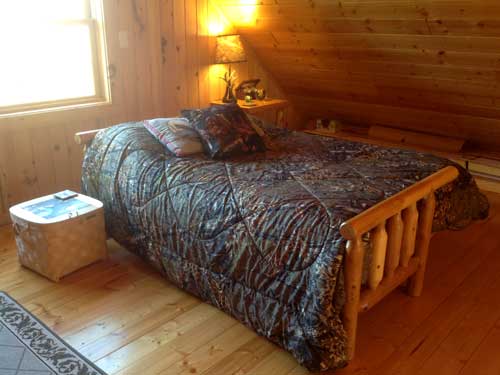 Queen Futon Bed in Loft sleeps 2 people.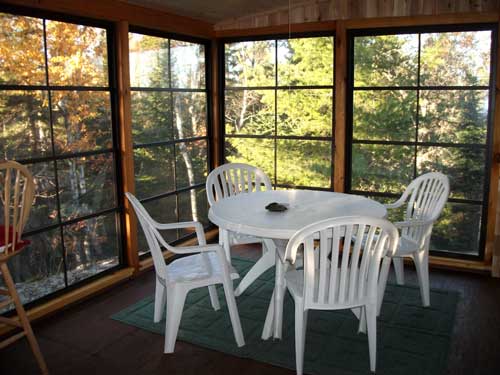 Relax on the Porch and enjoy the quiet!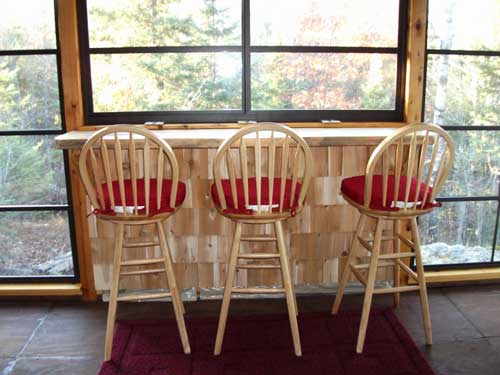 Breakfast Bar in the Screened in Porch.
Log Bench to relax on during the campfire.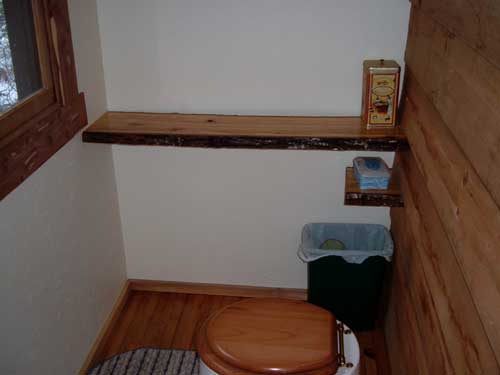 Outhouse with Hardwood Floors!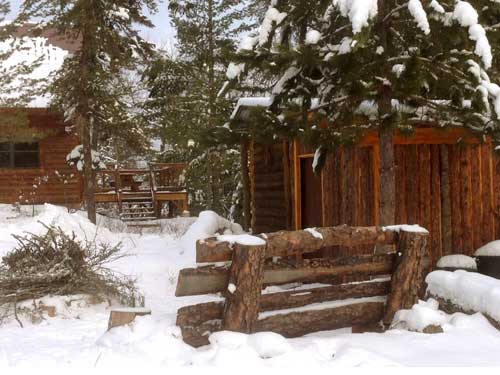 White Snow everywhere, what a sight to see!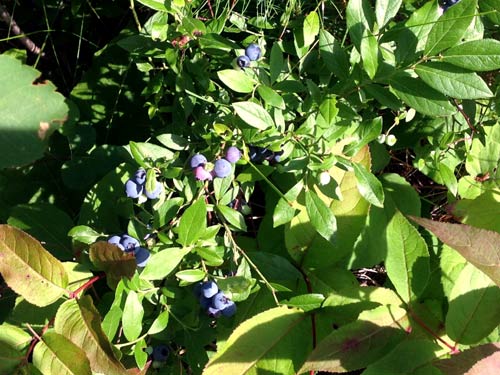 Wild Blueberries grow very close to the Cabin!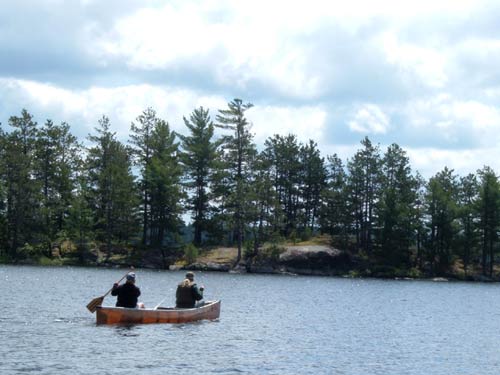 Canoeing is a favorite activity in Ely, MN!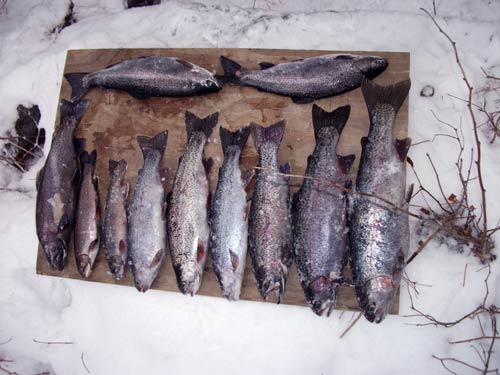 Ice Fishing for Trout in Northern MN!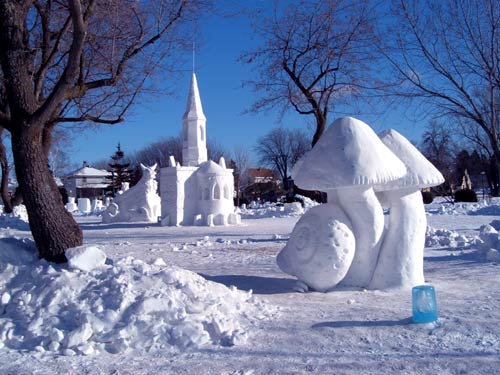 Ice Sculptures are a yearly activity at Whiteside Park in Ely.
Now Taking Reservations for Summer or Fall!
RESERVE TODAY: 888-669-0956
This Cabin sleeps 2-6 people.
Beds: Queen Log Futon-Upstairs Loft
Full Log Futon-Main Floor
2 Single Log Futons-Main Floor
Flat Screen TV, DVD Player
Solar Panel System
Ornate Gas Log Flame Stove
Water at the kitchen sink
Stove, Fridge, Microwave
Coffee Maker, Toaster
Fully Stocked Kitchen
Towels & Linens provided

Now Taking Reservations Summer or Fall!
RESERVE TODAY: 888-669-0956
This Vacation Rental Cabin is a Pet Free, Smoke Free and Kid Free Zone.
Owners
Patrick & Debra Kowal
PO Bpx 634, Ely, MN 55731
218-365-7799
Email: info@wildlifetreasures.com