| | | | |
| --- | --- | --- | --- |
| Item # | Size | Price | Order |
| R1830 Raccoon | 14"X6" | Discontinued | |
| P1653 Panda | 5"X8" | Discontinued | |
| P1652 Panda | 5"X8" | Discontinued | |
| P1675 Panda | 13.5"X8" | Discontinued | |
| P1651 Panda | 8"X8" | Discontinued | |
| P1690 Panda | 12"X7" | $38.00 | |
| R1826GY Rabbit | 6"X3.5" | Discontinued | |
| R1826T Rabbit | 6"X3.5" | Discontinued | |
| R1826W Rabbit | 6"X3.5" | Discontinued | |
| R1831 Raccoon | 5.5"X4" | Discontinued | |
| R1839 Raccoon | 12"X2.5" | Discontinued | |
| P1696 Panda | 6.5"X6.5" | Discontinued | |
| P1650 Panda | 4"X5.5" | $29.00 | |
| P1652 Panda | 8.5"X4.5" | Discontinued | |
| G721 | 10.5"X10" | Discontinued | |
| G719 | 10.5"X10" | Discontinued | |
| R1835 Raccoon | 6.5"X4" | Discontinued | |
| R180B Jackalope | 4"X7" | Discontinued | |
| R180T Jackalope | 4"X7" | Discontinued | |
| R180GY Jackalope | 4"X7" | Discontinued | |
| R180W Jackalope | 4"X7" | Discontinued | |
| R1828GY Rabbit | 9"X5" | $38.00 | |
| R1828T Rabbit | 9"X5" | Discontinued | |
| R1828W Rabbit | 9"X5" | Discontinued | |
| R1836 Raccoon | 8"X5" | Discontinued | |
| R1809 Rabbit | 3"X3" | Discontinued | |
| R1832 Raccoon | 5.5"X4.2" | Discontinued | |
| R1834 Raccoon | 3"X3" | Discontinued | |
| R1837 Raccoon | 4"X3" | Discontinued | |
| R1840 Raccoon | 8"X3.5" | Discontinued | |
Jackalopes, Panda Bears, Raccoons, Goats, & Rabbits Order Page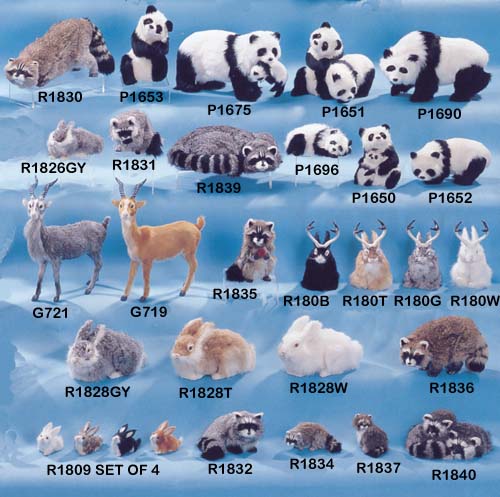 Yes, we have Jackalopes, Goats, Panda Bears, Raccoons, and Bunny Rabbits! Handmade figurines made with rabbit
& goat fur to make them appear very realistic and life like. Unique Christmas gifts for wildlife lovers. Kids also love the cute bunny rabbits.
Different colors available:
W-White T-Tan GY-Grey B-Black
NEW Click-Thru Feature!
Just click on the picture above and it will take you to another page. Still not what you are looking for? Click the picture again to view another page. You can now view each page by simply clicking on the pictures. It's a fast & easy way to browse thru ALL of the Furry Animal Pages!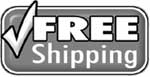 Buy 3 or more items and
receive 10% off your total purchase!
NEW Jackalope Heads!