Horse

Figurine

s
Order Page
| | | | |
| --- | --- | --- | --- |
| Item # | Size | Price | Order |
| H828BL | 19"X17" | Discontinued | |
| H828BR | 19"X17" | Discontinued | |
| H828W | 19"X17" | Discontinued | |
| H808BR | 15"X13" | $45.00 | |
| H808BL | 15"X13" | Discontinued | |
| H808D | 15"X13" | $45.00 | |
| H808W | 15"X13" | $45.00 | |
| H809BR | 11"X7" | Discontinued | |
| H809D | 11"X7" | Discontinued | |
| H824BR | 4.5"X10" | Discontinued | |
| H824BL | 4.5"X10" | Discontinued | |
| H829BR | 9.5"X7" | Discontinued | |
| H829BL | 9.5"X7" | Discontinued | |
| H850BR | 9"X7" | Discontinued | |
| H850BL | 9"X7" | Discontinued | |
| H849BR | 5.5"X4" | Discontinued | |
| H849BL | 5.5"X4" | Discontinued | |
| H852BR | 6"X4" | Discontinued | |
| H852BL | 6"X4" | Discontinued | |
| H89W | 5.5"X5" | Discontinued | |
| H89BR | 5.5"X5" | Discontinued | |
| H89D | 5.5"X5" | Discontinued | |
| H89BL | 5.5"X5" | Discontinued | |
| H86W | 5"X4.5" | Discontinued | |
| H86BR | 5"X4.5" | Discontinued | |
| H86BL | 5"X4.5" | Discontinued | |
| H810D | 6"X3" | Discontinued | |
| H810BR | 6"X3" | Discontinued | |
| H810BL | 6"X3" | Discontinued | |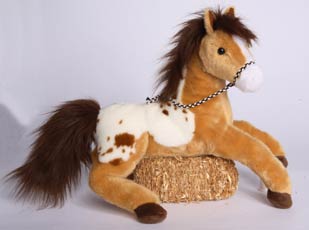 Realistic Furry Animals
Realistic Furry Horse Figurines are great gifts for kids who love Horses!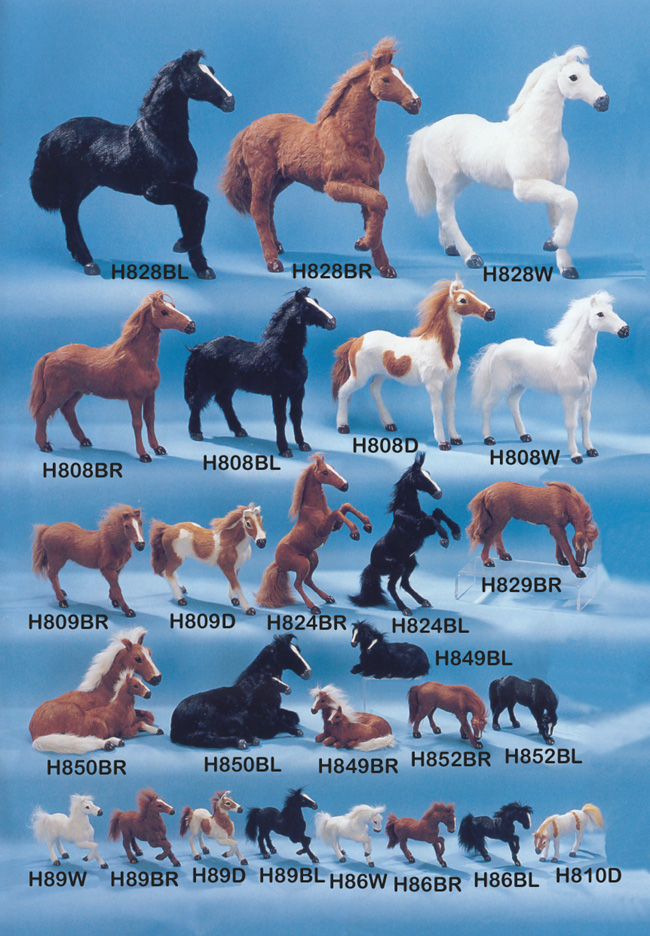 Handmade horse figurines made with goat fur so they look just like a real horse! These horse figurines make great gift ideas for kids who are just learning how to ride horses.

Different colors available:
B-Black, BR-Brown, W-White, or D-Brown & White
NEW Click-Thru Feature!
Just click on the picture above and it will take you to another page. Still not what you are looking for? Click the picture again to view another page. You can now view each page by simply clicking on the pictures. It's a fast & easy way to browse thru ALL of the Furry Animal Pages!
To check out all of our Furry Animal Figurines,
follow the links on this picture>>>>>>>>>>
or check out the list below:
Here you can see Pictures from Happy Customers! See our realistic and lifelike Furry Animal Figurines in action at art exhibits, as a movie prop in a television film, at theatrical productions, or in the hands of a small child who loves their new pet!!!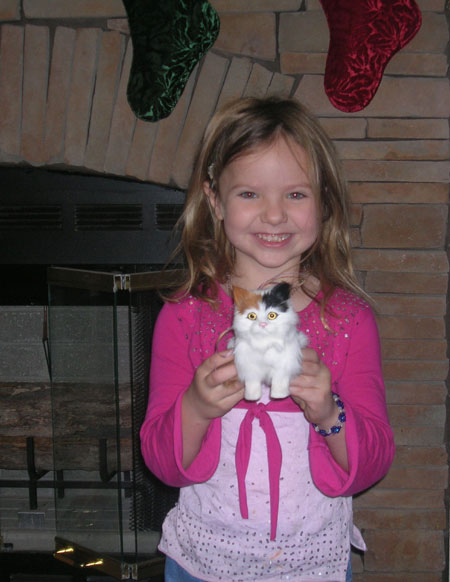 Click on any animal below to go directly to that page.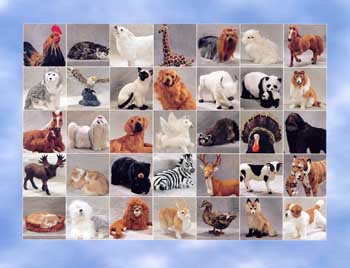 Looking for something else?
Email us your Special Request OR call us at:
888-669-0956
Click on the picture below to check out these cute cuddly stuffed dogs!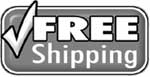 Free Shipping

in the USA!
*Does not apply to returns or exchanges.
Canada Shipping $12.95
Overseas Shipping $19.95
*Does not apply to

oversized packages

.

Easy Online Shopping
available with our
Secure Shopping Cart
wherever you see the
Buy Now Button
Please allow 1-2 weeks for delivery.
Testimonials
See what our customers say about us!
FAQ's
Frequently Asked Questions